Workstream 3 – Understanding the immune system in the laboratory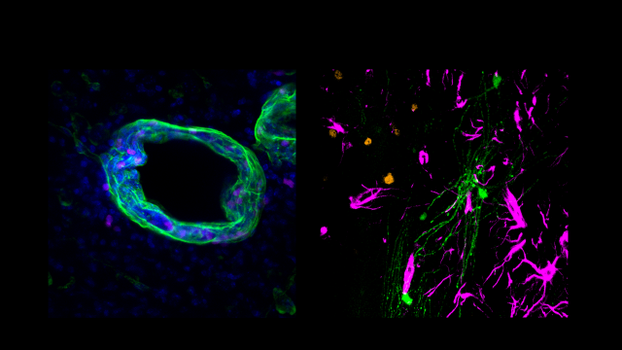 B lymphocytes in the brain during acute inflammation. The left picture shows a blood vessel (green) in the brain, in which B-lymphocytes (pink) can be seen in the vessel wall and in the brain tissue around the vessel. The right picture shows virus infected nerve cells (green), astrocytes (pink) and B-lymphocytes (yellow) in the brain.
A solid understanding of the immune system regulation and dysregulation is central for diagnosis, prognostic assessment, and treatment of neuroimmunological diseases.
RC2NB aims to provide a better understanding of inflammatory disease processes and the interplay of various immune cell functions in multiple sclerosis (MS), neuromyelitis optica spectrum disorder (NMOSD), and myelin oligodendrocyte glycoprotein antibody-associated disease (MOGAD) and beyond. This includes exploring the increasingly recognized role of the gut microbiome and leveraging this knowledge to promote immunoregulatory responses achieving tailored depletion of immune cell subpopulations through targeted manipulation of the gut microbiome.
Core Members
Prof. Tobias Derfuss
PD Dr. Mathias Mehling
Prof. Anne-Katrin Pröbstel
High-dimensional and multi-omic investigation of immune system changes associated with treatment success, failure, and side effects

Hypothesis-driven investigation of mechanisms underlying disease initiation and progression

Animal models of disease mechanisms

Autoantibody isolation from patient samples, recombinant production and testing
Measurement of protective immunity under MS treatments by quantification of vaccine responses in the framework of the Swiss Multiple Sclerosis Cohort

Understanding the role of MS treatments on the development of immunosenescence

Mechanistic assessment of the role of atypical chemokine receptors in the formation of central nervous system inflammation
Taking cues from opposing clinical trial results with B cell depleting therapies, we combine state-of-the art single cell transcriptomic and immune repertoire approaches to decode B cellular function and antigen specificity in MS and MOGAD across compartments.

Building on recent evidence of a pivotal role of gut-originating immune responses in MS, we specifically strive to decipher mucosal origins of immune cells and their interaction with gut microbiota through analysis of stool samples and gut biopsy tissues in MS patients in combination with functional analysis in germ-free mouse models.

By assessing longitudinal changes of microbiota in MS before and under immunomodulatory therapy, we aim to identify microbial biomarkers of treatment (side) effects and therapy (non-)response.