Workstream 2 - Novel imaging and fluid biomarkers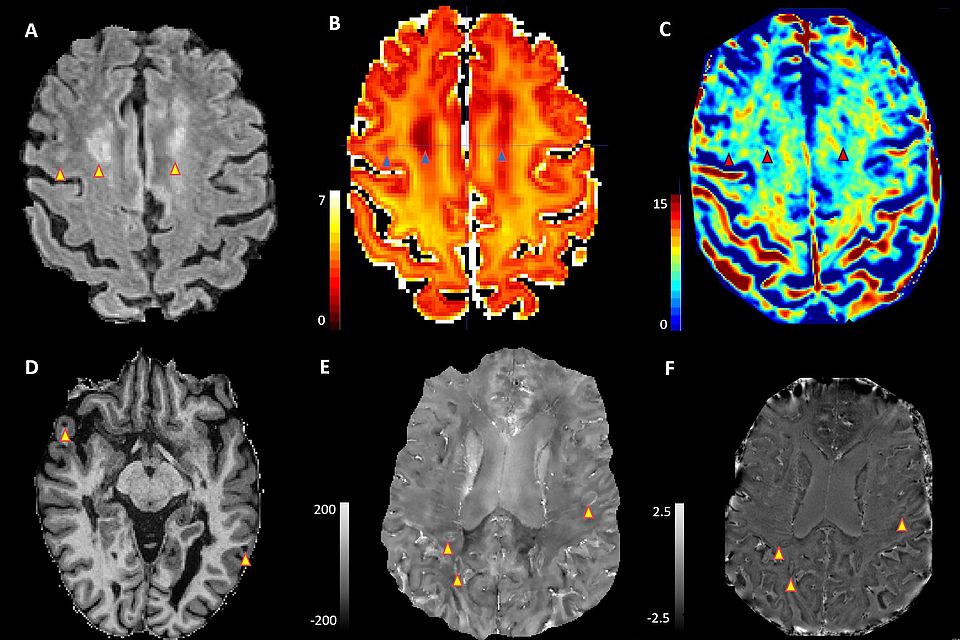 Different MRI sequences in an MS patient: A) Typical presentation of a white matter lesion in routine clinical sequence; special sequences show reduced myelin (B) and axon density (C) in the same MS lesion. Newly developed special sequences for imaging cortical (D) and chronically active (E+F) lesions.
Biomarkers aim to provide accurate and reliable measures of specific disease characteristics, of the evolution of disease (for example specific brain/spinal cord damage) and of patient's health status by objectively reflecting quantifiable characteristics of biological processes. This enables the diagnosis and prognosis of disease and the assessment of response to treatment.
RC2NB is breaking new ground in identifying, validating, and implementing advanced and innovative imaging techniques as well as fluid and cellular biomarkers.
Imaging biomarkers are measured through imaging techniques (such as magnetic resonance imaging), which provide structural, functional and metabolic information, for example about the brain and spinal cord. Fluid biomarkers are measured in body fluids (such as the blood and cerebrospinal fluid) and include for example antibodies or components of the brain/spinal cord tissue.
We systematically seek to integrate highly promising biomarkers into patient care, for example as a leading center in the application of serum Neurofilament light chain (NfL - a specific marker of neuroaxonal damage and loss).
We analyze advanced neuroimaging biomarkers for MS differential diagnosis and prognosis, including the central vein sign, cortical lesions, and paramagnetic rim lesions (which are all lesion types with a high specificity for MS and high prognostic value).
We also develop and apply novel approaches to the analysis of complex imaging information, including artificial intelligence methods encompassing conventional machine learning and deep-learning, with the aim to contribute to personalized diagnostic and therapeutic approaches in MS patients.
Core Members
Prof. Dr. med. Dr. phil. Jens Kuhle
Prof. Dr. med. Dr phil. Cristina Granziera
Translational imaging in Neurology (ThINk) Basel
ThINk Basel is a group of 5 principal investigators with their respective teams, who apply, optimize and integrate magnetic resonance imaging methods with clinical, neurophysiological, optical-coherence tomography, genetic and laboratory measures

We exploit conventional and advanced MRI to investigate mechanisms of brain/spinal cord damage and repair, identify new biomarkers of disease progression and assess therapy response.

We perform research and cohort studies in MS patients as well as postmortem investigations of novel imaging approaches.

We develop and co-develop new image analysis and acquisition methods in MRI.
We provide long-term and state-of-the-art care to patients with MS and other neuroimmunological diseases

Interdisciplinary team of specialised neurologists, nurses, physiotherapists, social workers, and neuropsychologists

International reference centre for the conduct of therapeutic and diagnostic studies in the field of MS

Continuous translation of basic and applied research findings to our patients for a best possible personalised treatment approach
Discovery, validation, and development to clinical applicability of biomarkers related to MS disease course

Mechanistic integration of imaging, electrophysiological and clinical disease features with biofluid markers

Discovery of biomarkers related to the differential diagnosis in the field of lesional neuroinflammatory diseases (MS, NMOSD, MOGAD)

Development, conduct and lead of the Swiss MS Cohort Study (see WS 4)